The leaves are changing and there's the smell of campfires in the crisp Fall air. That means the kids are back in school, the summer vacations are over, and it's time to get back to our regular schedule.
For some people that may be a disappointment, but I actually find it comforting. You already know how much I love the summer and all of the fun activities that come with it. But that time of year can also bring a lot of work and you really have to work hard in order to be able to play hard.
It also means covering for your coworkers when they go on vacation, working through a zillion emails upon your return to the office from your vacation, and somehow trying to find more time at the end of a long work day to spend with the kids that are home from school.
Believe me when I say I'm the last person to want every day to be the same! But instead of focusing on the loss of summer adventures, I choose to welcome the relief that comes with the completion of outdoor chores and having the pace of a regular schedule. Now is the time to get back into the rhythm of the office, take a moment to admire the gorgeous colors of the changing leaves, and then go find an awesome Halloween costume.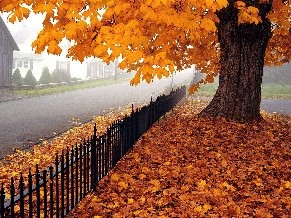 Thanks for your business and make it a great day!
Warm Regards,