Since many of you already know I'm a big fan of the shore, I'm sure it won't surprise you to know that we opted to take our little man on his first trip there for Father's Day weekend. Of course it was very different to now be traveling with a child. But everything looked different to me too, as if I was seeing it all for the first time again.
It's like when you think back to your first day at a new job. Everything was new! There were new programs and systems to learn, you had to figure out how you fit in with the team, and even drive a new route to work every day. The same can be said for the first time you put your feet in the sand, felt ocean water, and experienced the sights, sounds, and smells of the boardwalk. It's a new world to which you will quickly adapt.
Since you're on the other side of it all now, you probably don't even think about these things and everything is just "normal". But the next time you introduce yourself to the latest new hire, remember how it all appears through new eyes and lend a hand where you can. It's just like a first trip to the shore and they'll be running into the waves in no time.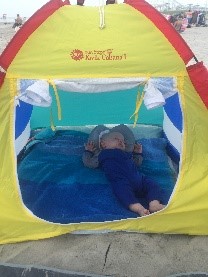 Thanks for your business and make it a great day!
Warm Regards,