It is with great pride and joy that I'm letting everyone know our son has arrived! Logan Thomas Barnshaw was born at 2:48pm on 5/15/15 at 8lbs 10oz. Mom and baby are both well and we are adjusting to this next phase in life.
Like most first-time parents, I'm completely overwhelmed by many things – How quickly he is growing and changing, how much there is to learn and do, and how much love and joy explodes in my heart every time I see him smile. How is it that somebody so small can make such a huge impact in our lives?
I'm not going to compare this to anything in the IT world and I'm sure anyone who is a parent can already answer that question. It's simply because they do! This month I am humbled and so honored this little man chose me to be his daddy. I have no words of business or life wisdom to impart. I just want to encourage each one of you to hug a loved one today and take a moment to be grateful they are in your life. Remember the first time you met them and how much they have grown to mean to you. What can I say – I'm a pile of mush today and I've never been happier to say that!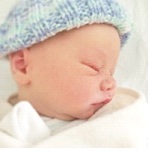 Thanks for your business and make it a great day!
Warm Regards,