We're closing out 2014 and I have to say, overall, it as been a good year for me, my family, and our business. Does that mean we need to go softly into 2015? Not a chance!
This is the time of year when we always have a few customers looking to make a final IT investment for the year, where we are pushing ourselves to finish those last couple of internal projects we've had on the back burner for about forever, and to just get the top of the desk clean.
I like going into a new year with a clean desk and a clean slate. I see it as an opportunity to start fresh. When I walk into my office on that first workday in January, something just seems different and it feels good to be ready to take it on.
Of course, by this point I've also done the same thing at home: One more gathering, one more project, and maybe even one more day to relax a little bit. This time of year is full of "one mores" and you can either view it as pressure or as an opportunity to accomplish a few more things -- The choice is yours.
We appreciate the opportunity to have served you in 2014 and look forward to another great year together. Here's to hoping you enjoy the holidays with your loved ones and just enough "one mores" to finish the year with a feeling of accomplishment.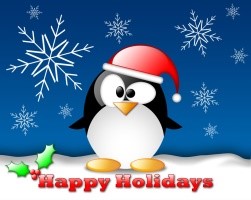 Thanks for your business and make it a great day!
Warm Regards,