One of our customers recently sent me an article regarding the changes Microsoft is making in the expected release of Office 2013 in March of next year. One of the big changes is to encourage consumers to buy the software as a monthly subscription instead of the outright software purchase option to which we are currently accustomed. Both options will be available. In addition to a lot of information this article also contained some commentary about projected consumer impressions and actions.
I started trying to decide if I thought the consumers would embrace or resist this new subscription-based option. What really struck me is that we're headed in a direction where work is becoming more intertwined with home and everything else we do. What if Microsoft is guessing correctly?
I'm the last person to say that work ends once you walk out the office door but I am aware that there does need to be some separation. The idea that we could have additional programs or more updated versions might be appealing and could give us more flexibility to do things at home -- But what about unplugging and taking time away from it all?
I'm not saying you should or shouldn't upgrade to the new version of Office right away and I think both options are appealing depending on the end user. The need to balance work and home is getting more complex as technology quickly advances. We all need to make the decisions that are right for ourselves and our families regarding what will give us the right amount of time at home and the quality of time we want together.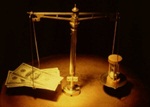 Thanks for your business and make it a great day!
Warm Regards,