Last month you heard me talk about how much we enjoyed our time in Ireland. So I'm sure it seems ironic that this month's topic is about how much I enjoyed coming home.
Don't get me wrong – I love a good vacation as much as the next person! But being away also helps me appreciate the life that I've built back home. I live a lifestyle filled with (mostly) healthy food and exercise, I'm surrounded by friends and family, I enjoy making home improvements on our home, and I appreciate working hard in a business that interests me.
When you first started reading, you may have thought I was contradicting myself. But it's really just appreciating the differences and enjoying both. While I like the fun and decadence of vacation in the short term, I know the choices I make in my everyday life will keep me happy in the long run. Of course a pint of Guinness and fish 'n' chips for lunch at the local Irish pub is delicious, but I've found I don't want this on a regular basis so I can sustain the faster pace at which I enjoy living my life.
The key is figuring out not only what makes you happy in the moment, but what makes you happy in life. Then find the balance that works for you.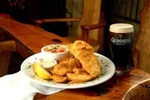 Thanks for your business and make it a great day!
Warm Regards,