I am happy to announce the latest edition to our ETB family: Zackary Kennedy Young. Jason and his beautiful wife, Jen, brought their healthy baby boy into the world on March 15th at 9:47pm.
And just that quickly, the next phase in life begins for their family! Each of us has gone through many different phases and changes in life. Some of them are big, like marriages, deaths, and births. Others seem smaller, like the transition to exercising and eating healthier, a new car, or even just the change of the seasons.
As Spring begins, I'm seeing a lot of people get more involved in outdoor exercise, start to plant their gardens, and begin to think about upcoming vacation plans. I encourage each one of you to step outside,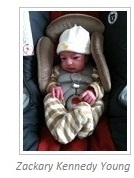 take a deep breath of fresh air, and see what thoughts of renewal this small action brings.
Thanks for your business and make it a great day!
Warm Regards,